ODM VIS 300 & VIS 400 Inspection Probes

Authorized Distributor

The VIS 300 advances field connector inspection with its unique focus system. This development virtually eliminates the need to place the user's hand in the same position each time for effective focus control. To focus simply turn the entire probe ¼ to ½ turns for complete focus range. No longer is it necessary for the user to keep one hand on the focus wheel. The VIS 300 includes a bright 3.5 inch LCD display and precision optics to provide an unmatched FOV (field of view) of 630μm by 440μm.
The VIS 400-HDP inspection scope allows test technicians to inspect and grade fiber endfaces by offering the most detailed image possible. When used in conjunction with ODM's proprietary InSpec™ software the VIS 400 ensures compliance with the IEC 61300-3-35 standard.

VIS 300 Manual Field Inspection Scope
Field Inspection Fiber Scope - Provides manual analysis system for users to verify adherence to 630um by 440um.
Buy Now $995.00
VIS 300C Automated Field Inspection Scope
Automated Field Inspection Monitor and HD Inspection Probe. Onboard image save, report creation, and Wi-Fi compatibility. All features controlled via 5-inch touchscreen.
Buy Now $1,995.00
VIS 400-HDP Automated Field Inspection Scope
VIS 400 Probe w/USB or WiFi connectivity (with PA 255B Wireless Access Device) Automatic PASS/FAIL analysis to IEC 61300-3-35 with ODM InSpec™ Software, 2.5mm/1.25mm, LC/SC adapter tips
Buy Now $995.00

At FiberOptic Resale Corp we have a broad range of expertise on the most popular equipment saving you time, money and the inconvenience of sending your fusion splicers & cleavers to multiple OEMs. Let us keep your fiber optic equipment operating like new.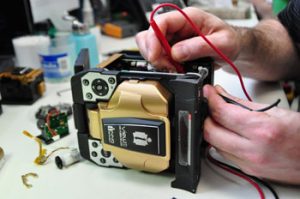 Technical diagnosis and estimation of repairs
Detailed documentation on work completed
Pre & post sales technical support