Cleaning & Calibration Services
At FiberOptic Resale our on-site technicians provide calibration & cleaning services to keep your fusion splicers and cleavers running like new. Whether you're having your splicer cleaned & calibrated annually or you've put off regular maintenance our techs have the expertise to get you back up and running. We service both older and newer model fusion splicers. We'll also clean & calibrate your cleaver saving you time, money and the inconvenience of sending your equipment to multiple OEMs. If you have any questions please call 877-287-7535.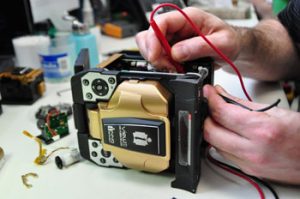 Quick Turn Around Times!
Customized fusion splicer repair services.
Our factory trained techs have a broad range of experience which allows them to diagnose and repair older splicers as well as the newer more difficult to troubleshoot fusion splicers and cleavers.

Fusion Splicers We Service Include:
FORC Fiber Fusion Splicer Models
F15, F12R and F1
INNO Fusion Splicer Models
IFS-10, IFS-15H, View 1, View 3, View 5, View 7, and View 12R
Fujikura Fusion Splicer Models
FSM-70S, FSM-70R, FSM-60S, FSM-60R, FSM-50S, FSM-40S, FSM-30S, FSM-17S, FSM-16S and more.
Sumitomo Fusion Splicer Models
Type 65, Type 63, Type 45, Type 39, Type 37 and more.
Fitel Fusion Splicer Models
S178, S153, S123, S177 both V1 & V2 and more.
Ericsson Fusion Splicers
Corning Fusion Splicers
And many more...
Fiber Optic Cleavers We Service Include:
FORC Fiber Cleavers
Fujikura Fiber Optic Cleavers
Sumitomo Fiber Optic Cleavers
Fitel Fiber Optic Cleavers
Ericsson Fiber Optic Cleavers
INNO Instrument Fiber Optic Cleavers
And More...
We Offer:
- Low Cost technical diagnosis and estimation of repairs
- Detailed documentation on work completed
- Pre & post sales technical support
Fusion Splicer Calibration & Cleaning Services Include:
Clean Mirrors - Microscope lenses
V-grooves
Fiber holders
Electrode replacement
Dust Check - Stuff Check - LED Check - Motor Check
Optical adapter and head cleaning
Battery reconditioning and replacement
Dirty mirrors
Preventative maintenance
Annual cleaning
Memory Check
Excessive DB splice loss
Alignment issues
And More...