The New View PRO Line of Fusion Splicers with a Cloud Based Operation & Management System

Authorized INNO Distributor

The New View PRO fusion splicers are equipped with a built-in IoT module that connects to INNO's View Pro Cloud Management System for real-time operation and management online. This innovative cloud-based solution is designed to create the most advanced and yet most uncomplicated splicing and work experience. Still with a 3 Year Warranty!

Proud To Be Awarded 2022 Top Sales & Service Center by INNO
Original View Series Fusion Splicers Are Still Available Here > >
View 12R PRO Ribbon Splicer with an automatic clamp alignment system offers more accurate and dependable ribbon fiber splicing up to 12 fibers with the double-tapping (zoom in & out) to the world's highest magnification of 250x.
View 8 PRO Core Alignment with a sizeable, large battery capacity at full charge allows up to 355 splice/heat cycles. In addition, the improved heating oven provides fast heating times to 9s.
View 5 PRO fusion Core Alignment splicer is one of the most dependable fusion splicers it it's field. Standard functions including a detachable SOC holder and heating oven makes it easy to use and cost-effective.
The View 3 PRO is an Active clad-alignment splicer with 5 inch high-resolution color LCD touch screen with high fiber image magnification rate for clean fiber images. It's user-friendly intuitive GUI.

View PRO Reference Guides
View Pro Management System
The View Pro Management System is an integrated cloud-based software platform for INNO's splicers. This innovative web-based application allows both technicians and managers of the splicers to maximize the use of its assets and to achieve the highest work efficiency. Real-time communications with tiered access rights and options to manage job orders, manage splicing machines, and send/receive reports are only a small part of the innovative work processes offered by the View Pro.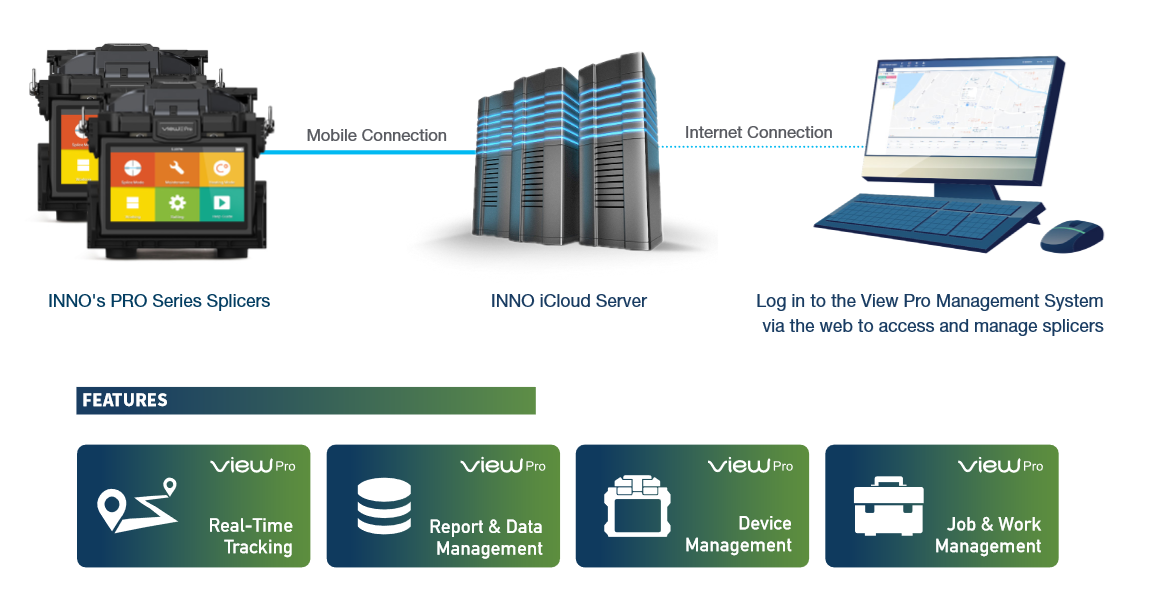 At FiberOptic Resale Corp we have a broad range of expertise on the most popular equipment saving you time, money and the inconvenience of sending your fusion splicers & cleavers to multiple OEMs. Let us keep your fiber optic equipment operating like new.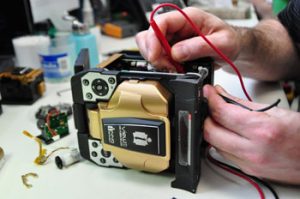 Technical diagnosis and estimation of repairs
Detailed documentation on work completed
Pre & post sales technical support