Authorized Distributor
INNO View 5 PRO Core-alignment Fusion
Cloud Based Operation & Management System
The NEW View 5 PRO is Web Based and Has Real-Time Tracking and Data Management
The New View 5 PRO fusion splicer is equipped with built-in IoT module that connects to INNO's View Pro Cloud Management System for real-time operation and management online. This innovative cloud-based solution is designed to create the most advanced and yet most uncomplicated splicing and work experience.
All with a 3 Year Warranty!
Authorized INNO Distributor
View 5 PRO With Time Lock - Function

‐ Automatically Locks on set time
‐ Prevents Theft
‐ Unlocks with Device Password
‐ Up to 6 Time Settings


View PRO Management System
View PRO Management System is an integrated cloud-based software platform for INNO's splicers. This innovative web-based application allows both technicians and managers of the splicers to maximize the use of its assets and to achieve the highest work efficiency. Real-time communications with tiered access rights and options to manage job orders, manage splicing machines, and send/receive reports are only a small part of the innovative work processes offered by the View Pro.
View PRO Cloud Management System Features
Real-time Tracking
Report & Data Management
Job & Work Management
Device Management
Secure Time Lock Function
The NEW View 5 PRO Web Based Fusion Splicer With:
Built-in IoT Module for Mobile Data Communication
Web-based, Real-time Operation System
Core Alignment Splicing with DACAS Profiling System
The Highest Magnification and Resolution
5" Color LCD Touch Screen
Double Tapping ( Zoom in & Out )
Fast Heating Time
Detachable SOC Holder and Heating Oven
3 Bright LEDs for Dark Environment
User Friendly Interface with Built-in Videos
3 YEAR WARRANTY
View PRO Reference Guides
View 5 PRO Fusion Splicer Spec Sheet (pdf)
View PRO User Manual (pdf)
View PRO Quick Guide (pdf)
View 5 PRO Fusion Splicer Kit Includes
View 5 PRO Splicer
V11 One Step Fully Automatic Cleaver
FH-45Fiber Holders 1set
FH-SOC-RSOC Holder 1ea
HTS-SOC-02 SOC Heater Cover
JS-180300 AC Adapter
CG-22 Cooling Tray
E-50 Electrode 1set
LBT-52 Battery Pack
ACC-25 Power Cable
USB-7P USB Cable
ICC-55 Carrying Case
IWS-06 Work Tray
WTB-01 Work Tray Bolt (M6*8)
WTB-02 Work Tray Bolt (M6*14)
ST-01 Shoulder Strap 2ea
Quick Reference1ea
Other INNO View PRO Fusion Splicers
View 3 PRO Clad Alignment Splicer
View 8 PRO Core Alignment Splicer
View 12R PRO Ribbon Splicer
The View PRO Series Dashboard
Authorized INNO Instrument Distributor and Repair Center

At FiberOptic Resale Corp we have a broad range of expertise on the most popular equipment saving you time, money and the inconvenience of sending your fusion splicers & cleavers to multiple OEMs. Let us keep your fiber optic equipment operating like new.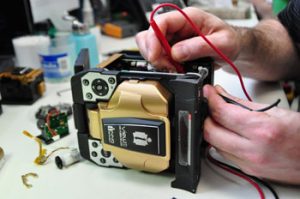 Technical diagnosis and estimation of repairs
Detailed documentation on work completed
Pre & post sales technical support