RN-PRO Is A Glue Free Ribbonizer - $675
INNO Instrument RN-PRO Ribbonizer arranges individual 200um or 250um fiber to the ribbon fiber holder using simple steps. The RN-PRO can provide ribbon splicing experience with single fiber to users without using glue.


RN-Plus Package Includes:
RN-PRO-8 Ribbonizer 1ea
RN-PRO-12FH 12 Fibers Holder 1ea
RN-PRO-6FH 6 Fibers Holder 1ea

Specifications
Material: Metal
Coating Diameter: ⌽ 200, 250um
Fiber Count: Up to 12 fibers
External Dimensions: 93mm x 48mm x 23.5mm (LxWxH)
Weight: 130 g
Introducing The New INNO View PRO Splicers With a Cloud Based Operation & Management System
INNO View PRO fusion splicers are equipped with a built-in IoT module that connects to INNO's View Pro Cloud Management System for real-time operation and management online. This innovative cloud-based solution is designed to create the most advanced and yet most uncomplicated splicing and work experience.
View PRO Management System
View PRO Management System is an integrated cloud-based software platform for INNO's splicers. This innovative web-based application allows both technicians and managers of the splicers to maximize the use of its assets and to achieve the highest work efficiency. Real-time communications with tiered access rights and options to manage job orders, manage splicing machines, and send/receive reports are only a small part of the innovative work processes offered by the View Pro.
INNO View Series Fusion Splicers Include
The View 5 core-alignment fusion splicer has a 520X magnification, the highest magnification of any fusion splicer on the market today, allowing users to check fibers clearly with the naked eye.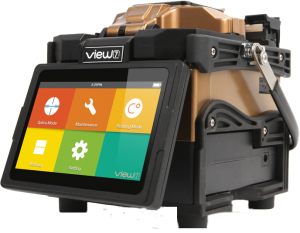 View 7 has a friendly intuitive GUI with a 5 inch screen and 520x resolution that is easy to see and use. The large battery capacity allows up to 355 splice and heat cycles. In addition, the improved heating oven provides fast heating times to 18s.
View 3, an active clad-alignment splicer with the world's highest fiber image magnification rate of 520x, is one of the most dependable fusion splicers. 3 LED lights provide bright splice condition to the users working under dark environments.