QC Kit2 Quickleen™ | AQ-2LP | AQ-2DR | QC-2LP | Polywater TC Family of Cleaners
FiberKleen™ Accessories are best used with the combination wet - dry cleaning procedure recommended in Telcordia GR-2923-CORE. Microfiber towels (DT-D175) and holder (FC-HOLDER), available from American Polywater Corporation work well with this method. Several drops or a light spray of AquaKleen™ or QuicKleen™ cleaner is placed on the towel. Preferred cleaning motion is a straight line motion, drawing the endface through the wetted portion of the towel, and then through a clean portion of a second dry towel. Use of the FC-HOLDER optimizes the cleaning process. Swabs may be dampened on the wetted portion of the towel in order to clean the bulkhead or equipment.
AQ-WETDRY1 | HTC-D72 | HS-D72 Hydrasol wipe | Type FO iso alcohol | DT-D175 Microfiber Towels
Polywater offers a large variety of cleaning wipes and towels for all of your communication needs. Polywater cleaning wipes are heavy duty towelettes feature a textured side to quickly remove grease. Polywater towels are lint free, non fraying ultra-clean material.

At FiberOptic Resale Corp we have a broad range of expertise on the most popular equipment saving you time, money and the inconvenience of sending your fusion splicers & cleavers to multiple OEMs. Let us keep your fiber optic equipment operating like new.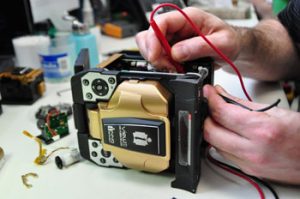 Technical diagnosis and estimation of repairs
Detailed documentation on work completed
Pre & post sales technical support