EXFO MAX-700B/C | EXFO FTB-500 | EXFO FTB-1v2
EXFO FTB-2 | EXFO FTB-2 | FTBx-740
EXFO offers an OTDR built smart for every type of network. With numerous single-mode and multi-mode configurations available at several wavelengths, EXFO OTDRs are either dedicated-handheld or modular solutions that reduce truck rolls and accelerate work flow in the field with measurements you can trust.
EXFO Certified Contractor
FORC is proud to announce our Technical Manager, Sam Lee has successfully completed the EXFO Certified Contractor Program. EXFO Certified Contractors are skilled in the use of the industry's best fiber-optic test solutions. The completion of this program ensures access to EXFO's industry-leading post-sales support and technical resources allowing us to assist our customers with their EXFO requirements.
Looking for an EXFO product you don't see, please call 877-287-7535 for assistance.

MaxTester 715B Last-Mile OTDR
MaxTester 720C Access OTDR
MaxTester 730C Short Metro/FTTx PON OTDR
The MAX-700B/C Series is the first tablet-inspired OTDR line that is handy, lightweight and rugged enough for any outside plant environment. With a 7-inch, outdoor-enhanced touchscreen–the most efficient handheld display in the industry–it delivers an unprecedented user experience.

The FTB-500 4-slot or 8-slot platforms designed for advanced applications
When you're ready to start your day, you want to get it started quickly. The FTB-500 "understands" this, enabling you expedite the setup process and get down to testing so that you can get to your next location faster and breeze through your tight day-to-day schedule.

EXFO FTB-1v2 Module OTDR Platform
The FTB-1 version 2, available in standard (FTB-1v2) or Pro (FTB-1 Pro) models, is a light-weight compact test platform allowing field technicians to carry out dedicated optical, Ethernet, multiservice and radio frequency (RF) interference test applications simply and efficiently, thanks to its ultra-powerful processing and highly intuitive interface.
The FTB-2, available in a standard or Pro model
The FTB-2 is the most compact solution on the market for multi-rate, multi-technology, multi-service testing, delivering all the power of a high-end platform in a conveniently sized, go-anywhere field-testing tool. A sum greater than its parts
EXFO FTB-4 Pro Versatile multi-technology portable test platform
The EXFO FTB-4 is the most flexible solution to test multiple technologies and high speed networks.
The FTB-4 Pro delivers all the power of a high-end platform in a go-where-you-need field-testing tool.
The FTBx-740 COTDR is a scalable solution that can grow with your network
This series includes one CWDM tunable OTDR module to cover all 18 CWDM channels from a single port and one DWDM tunable OTDR module to cover DWDM C-Band channels. This solution is available in the FTB-1 V2, FTB-2 and FTB-4 platforms.

At FiberOptic Resale Corp we have a broad range of expertise on the most popular equipment saving you time, money and the inconvenience of sending your fusion splicers & cleavers to multiple OEMs. Let us keep your fiber optic equipment operating like new.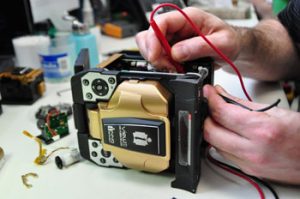 Technical diagnosis and estimation of repairs
Detailed documentation on work completed
Pre & post sales technical support