INNO View 1 Active Clad Alignment Splicer
$3095 With a 3 Year Warranty!
Authorized INNO Instrument Distributor

View 1 Fusion Splicer Features
Active V-Groove Clad Alignment Splicing Method
Light Weight and Handy Size
The Highest Magnification and Resolution
4.3" Color LCD Touch Screen
Double Tapping (Zoom in & out)
Detachable SOC Holder and Heating Oven
Easy to replace electrodes
3 Bright LEDs for dark environment
Changeable holder for multi-functional splicing
Or Finance For
View 1, an active clad-alignment splicer with amazingly compact design, is one of the most dependable fusion splicers on the market. View 1"s 4.3 inch high-resolution color LCD touch screen with user-friendly intuitive GUI (Graphic User Interface) offers large and clear fiber images to users.
By double-tapping the screen, users can Zoom In & Out of the image to the world"s highest magnification of 520x. Moreover, the 3 LED lights provide bright splice conditions for users working in dark environments. View 1 is the new industry standard of compact active clad-alignment splicer for the telecommunications industry.
INNO View 1 Fusion Splicer Kit Contents
Other INNO View Fusion Splicers Include:

At FiberOptic Resale Corp we have a broad range of expertise on the most popular equipment saving you time, money and the inconvenience of sending your fusion splicers & cleavers to multiple OEMs. Let us keep your fiber optic equipment operating like new.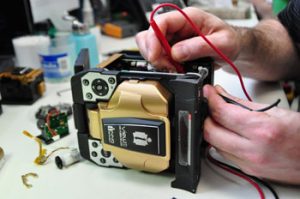 Technical diagnosis and estimation of repairs
Detailed documentation on work completed
Pre & post sales technical support