INNO View 5 Core Alignment Fusion Splicers Fully Tested & Calibrated
In-Stock Total ARC Count 28,415 & 21,973. Kit Contents May Vary, Please Call 877-287-7535 For Details

The View 5 core-alignment fusion splicer has a 520X magnification, the highest magnification of any fusion splicer on the market today, allowing users to check fibers clearly with the naked eye. A friendly intuitive GUI (Graphical User Interface) and a 5 inch high-resolution color LCD touch screen that's easy to see and use help makes the View 5 fusion splicer the most dependable fusion splicer it it's field. With its standard functions and package, View 5 is the most cost-effective and reliable splicer in the telecommunication industry.
View 5 Fusion Splicer Features
The View 5 Fusion Splicer has the World's Highest Magnification & Resolution
5" Color High Resolution Touch Screen
3 Bright LED for Dark Environment
Mirrorless Design for improved work efficiency
5mm cleave length for 250µm/900µm/3 mm, Flat cable, and SOC
35 Splicing Modes
Illuminated Keypads
The View 5 Fusion Splicer Specifications
Introducing The New INNO View PRO Splicers With a Cloud Based Operation & Management System
INNO View PRO fusion splicers are equipped with a built-in IoT module that connects to INNO's View Pro Cloud Management System for real-time operation and management online. This innovative cloud-based solution is designed to create the most advanced and yet most uncomplicated splicing and work experience.
View PRO Management System
View PRO Management System is an integrated cloud-based software platform for INNO's splicers. This innovative web-based application allows both technicians and managers of the splicers to maximize the use of its assets and to achieve the highest work efficiency. Real-time communications with tiered access rights and options to manage job orders, manage splicing machines, and send/receive reports are only a small part of the innovative work processes offered by the View Pro.

At FiberOptic Resale Corp we have a broad range of expertise on the most popular equipment saving you time, money and the inconvenience of sending your fusion splicers & cleavers to multiple OEMs. Let us keep your fiber optic equipment operating like new.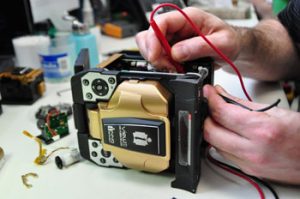 Technical diagnosis and estimation of repairs
Detailed documentation on work completed
Pre & post sales technical support